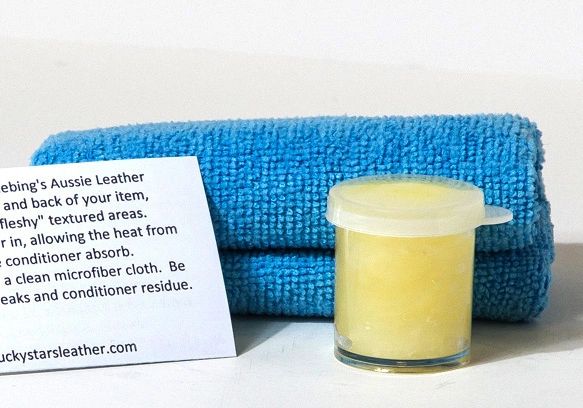 Small Leather Care Kit
This small leather care kit consists of approximately 1.5 oz of Fiebings Aussie Leather Conditioner, a full size microfiber cloth (color may vary), and an instruction card.  I use this conditioner during the making of my braided and black latigo items with burnished edges, and highly recommend it for continuing to care for your leather during its lifespan.
I suggest you use this leather conditioner on all garment leather, bullhide, and black latigo items manufactured by us.  Failure to regularly condition your leather will shorten its lifespan.  To protect your investment and maintain the beauty of your handmade gear, make sure you condition monthly.
Suitable for use on black latigo, garment leather, or bullhide.  Not recommended for use on colored latigo (red, white, pink, purple, baby blue, or green) or suede.
This item is ready to ship!