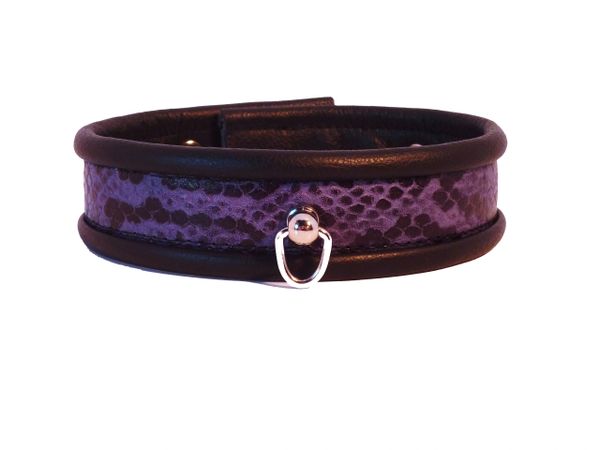 Purple Snake Sewn Collar
Custom made for you, these collars ship in approximately 4 weeks. Rush orders are available at an additional charge.
Soft cowhide sewn collar with a post and ring attachment. These collars will conform to the curve of your neck, and they don't turn or spin. Soft, comfortable, and supple. Purple leather is cowhide embossed with a snake pattern, with a black rolled edge. Locking buckle stays securely closed with or without a padlock. Available in 1" width or 1.5" width.
Durability rating:
Lightweight to moderate use. Although these are more durable than most manufacturer's "heavy duty," lighter weight leathers like garment leathers can stretch and rivets can pull through under extreme stress. Please be sure to select your toys and gear for the appropriate intended purposes!
Measurement:
Please measure at the base of your neck where your collar will sit. Please select your actual measurement. I will build in .5" for ease, and your custom fitted items will have a buckle hole right on the measurement you provide, one larger, and one smaller.
If You Select One Size Fits Most
If you select a One Size Fits Most size, I will automatically switch your buckle to a non-locking buckle so that your item is as adjustable as possible. I suggest measuring for best fit whenever possible!
If you are shopping from outside the United States, please read this important information!