Handmade Leather Guard Dog Mask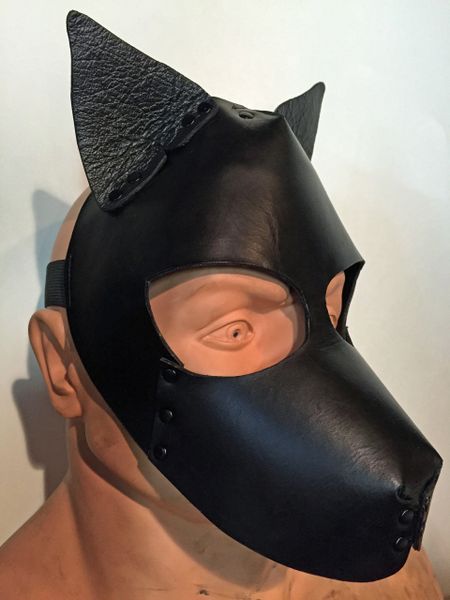 Handmade Leather Guard Dog Mask
Made to order- 4 week turnaround time!
This contoured leather mask is comfy, but fierce and ferocious. Be a fearsome protector with a soft side in this handcrafted dog mask. This mask covers your forehead, cheeks, and overhangs your mouth. Does not restrict speaking (or woofing). This mask is held on with an elastic headband system- although it's pictured in a non-adjustable format, these items will ship with an adjustable slider for a proper fit every time. Optional chin strap available for extra security. Perfect for puppy play or to complete your canine couture ensemble!
The mask is made from top quality vegetable tanned leather, lovingly hand dyed and finished, with a garment leather lining. The leather lining faces forward on the ears as a perfect detailed touch.
This mask comes in two sizes- Small/Medium or Large/XL. Human model has a 22" head circumference (measured above the eyebrows) and is wearing a L/XL with room to spare. I suggest the S/M for head circumferences under 22.5", and L/XL for 22.5" and up.
If you are shopping from outside the United States, please read this important information!