Custom White Leather ABDL Harness with set of 4 Reins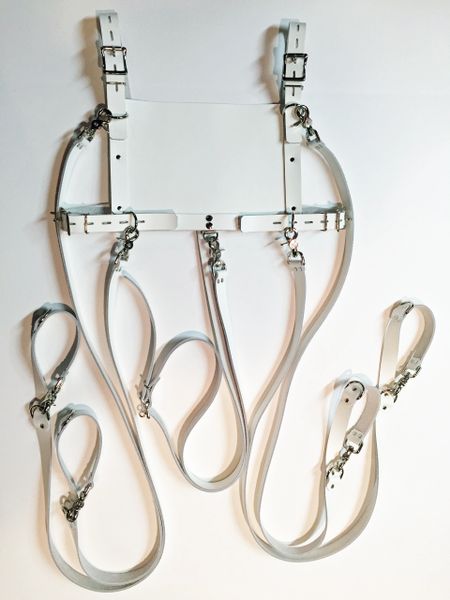 Custom White Leather ABDL Harness with set of 4 Reins
Made to Order- 4 week turnaround time
Have you been looking forever for just the right toddler-style harness? Stop looking. You've found it. White's not your color? This is available in all the same colors as my pacifier gags!
This harness is made of durable but soft top quality latigo leather. All of the parts lock in place with locking buckles that stay closed with or without a padlock, and there are lots of D rings to attach the provided reins to. All of the hardware is on the front of this harness by design- no buckles digging into your back! (You can also request that all buckles be placed in the back).
The crotch strap adjusts to be used with or without the thickest diapers (there's a buckle at the front of the crotch to make it adjustable, and the whole crotch strap can slide off in the rear and unclip in the front to be used in public under a jacket.
The reins have high quality lobster clasps at each end- one to clip to a D ring on the harness, and one to clip to either of the D rings at the other end of the rein. This can either form a hand-hold, loop around furniture, or secure a sneaky little in place any way you might imagine. The flexibility and creativity is in your hands. If you'd rather your reins include only one clip and have a fixed handhold at the other end, I'm happy to customize this! Each rein is 4 feet long for maximum flexibility, but I can make them longer (dependent on hide length) or shorter to suit you.
This harness will last you a lifetime, and it's strong enough to contain even the most willful adult baby. Latigo is a leather used for horse tack, and it's very durable and flexible, and softens every time you use it.
This is a completely custom item. Nothing off the rack here! After your purchase, I'll email you with a measuring guide. If you'd like your harness to be made to generic measurements, please let me know what type of person you'd like to fit. These harnesses are capable of fitting a range of people, so if you and a partner may both wear it, I'm happy to make it fit a range of sizes at no extra charge.
Don't need 4 reins? Don't want a crotch strap? Email me!

If you are shopping from outside the United States, please read this important information!