Contoured Leather Blindfold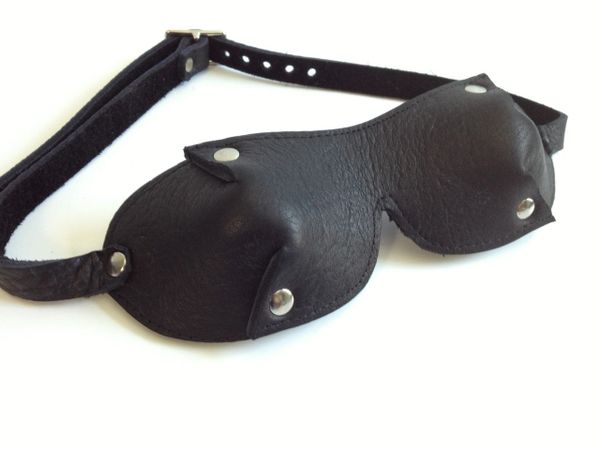 Contoured Leather Blindfold
These blindfolds are custom made for you, and ship in approximately 4 weeks!
This contoured leather blindfold is so comfy, some of my customers use them as sleep masks. One layer of top grain cowhide, one layer of top grain bullhide, stitched together and lined with 100% real super soft shearling (hair-on-hide) to block out any hint of light and provide comfort. No scratchy fake fur or eye-irritating rabbit here- only the real shearling deal. Bullhide strap, with a non-locking buckle (allows for finer adjustment). Your eyelashes won't hit the leather, and your lids won't be smooshed by an irritating flat or padded design. This is perfect for people who wear contact lenses, have delicate eyes, or who enjoy having comfortable, healthy eyes.
One size fits most, excess strap can be easily cut with sharp scissors or a utility knife. If you feel you have an exceptionally large or small noggin, feel free to include a measurement (bring a measuring tape from the bridge of your nose, just over your ears, snugly under the "notch" on the back of your skull (NOT around the widest part of your melon, but around that narrower part that is level with your ears), and back to the bridge of your nose.
If you are shopping from outside the United States, please read this important information!