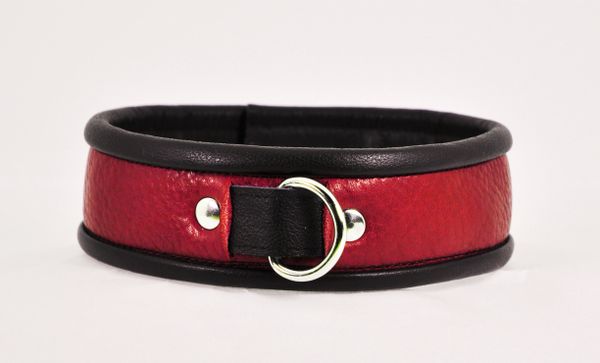 Bullhide Sewn Collar
Made to Order- 4 week Turnaround Time
Custom made for you, these restraints ship in approximately 4 weeks. Rush orders are available at an additional charge. Email service at luckystarsleather dot com to arrange a rush fee.
Soft bullhide sewn collar with a D ring (default) or hanging O ring. These collars will conform to the curve of your neck, and they don't turn or spin. Soft, comfortable, and supple. Available in Red, Purple, or Black. All colors have a black rolled edge. Locking buckles stay securely closed with or without a padlock.
Collar: 1.5" wide with 3/4" hanging O ring and locking buckle
These are made from soft, supple bullhide, and edged with top grain garment cowhide. The layers are stitched together and riveted.
Durability rating: Moderate
This collar is designed for light to moderate play. For the toughest play, please select restraints made entirely from latigo. Softer leathers like bullhide and garment leather are extremely comfortable, but applying your full body weight could cause the leather to stretch or rivets to pull through due to the rivet holes stretching. Please be sure to select the appropriate gear for your purposes so that it will last you a lifetime! Although my rating of "moderate" is superior to "heavy duty" products from China, if you play like a Clydesdale, please check out my all-latigo options :)
Please measure at the base of your neck where your collar will sit. Please select your actual measurement. I will build in .5" for ease, and your custom fitted items will have a buckle hole right on the measurement you provide, one larger, and one smaller.
If You Select One Size Fits Most
If you select a One Size Fits Most size, I will automatically switch your buckle to a non-locking buckle so that your item is as adjustable as possible. I suggest measuring for best fit whenever possible!
If you are allergic to nickle, you can upgrade to allergy-safe construction. I will construct your restraints with all of the connecting hardware on the back side inside the leather. Hanging O rings are not available with allergy-safe construction, as the hanging O ring could touch your skin.