Limited Edition Anna and Elsa Frozen Pacifier Gag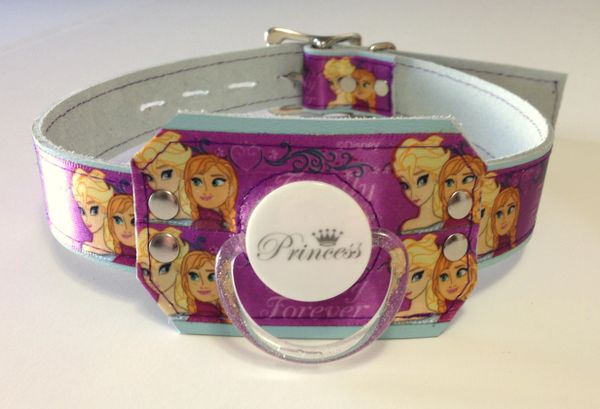 Limited Edition Anna and Elsa Frozen Pacifier Gag
Made to Order- 3 week Turnaround Time
Custom made for you, these restraints ship in approximately 3 weeks (21 days). Rush orders are available at an additional charge. Email service at luckystarsleather dot com to arrange a rush fee.
LIMITED EDITION Frozen Anna and Elsa Pacifier Gag - comes with Princess 6-18 month pacifier. This gag is a labor of love- first I cut the leather pieces, then I join the Frozen cuteness to the leather, then I sew over the Anna and Elsa for security. Finally, I assemble the gag and make sure it passes my strict standards. This gag features a locking buckle standard, and holds a pacifier securely in place. I only have materials to make a few of these, so get them while they're here!
I can only make a few of these- supplies are limited!
Standard size fits 16-22", if you need larger or smaller, please provide your measurement in the "custom size" option. (see the pics for measuring directions!)

Fits most button-style pacifiers of any size (infant through adult).
Ships with a Princess pacifier.
This gag features a lockable buckle (stays closed with or without a mini padlock!)
To lock the buckle, add a luggage sized padlock through the tongue of the buckle. It will stay closed with or without a padlock.
A NOTE ON PACIFIERS:
You can use your own button-style paci that has a button around the same size/shape as MaM paci's.
I don't have any adult pacifiers- I stock a small selection of cute toddler-sized pacifiers that fit my gags perfectly (I recommend MaM shields for a flawless fit, but other similar brands will work well too!).
If it has a round button and a ring/loop handle, please be aware that forcing the ring through the opening can stretch or distort the leather- proceed at your own risk!
Pacifiers with small buttons (less than 1") don't work with this gag. For best results, stick with paci styles that look like what I have pictured!
Your adult pacifier will work perfectly with this gag, as long as the handle is a button-type similar to what is pictured. The size of the nipple/teat doesn't matter at all- - only the size and shape of the button matters.
Please note that due to the sewn ribbon layer, it is a VERY SNUG FIT to fit the ring through the opening, so please use extreme care if you decide to change out this pacifier. I am not responsible for ripped stitches or stretches to the ribbon- this is why I am selling it as a complete set. Changing the paci isn't impossible, but please proceed with caution (if you'd like me to send you this gag with no pacifier included, I am happy to do so- please note this at checkout).