Wrapping Double Layer Ankle Cuffs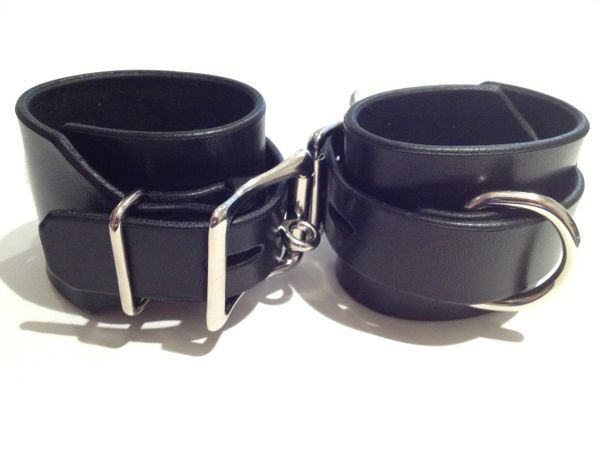 Wrapping Double Layer Ankle Cuffs
This item is custom-made for you and ships in 4 weeks. Rush orders are available for an additional charge.
These cuffs were designed to fit smaller ankles, but are well suited for any size. They are 2" wide with a locking buckle and a centered D-ring attachment point. The brilliance of these cuffs- they are constructed from a single piece of leather, and the wrapping design allows them to close with less dead space, providing less opportunity for wrist slip. This makes them optimal for tiny wrists, and super comfortable for average and larger wrists, too!
Hand-crafted from a beautiful latigo cowhide, hand dyed, with hand beveled and burnished edges with a rounded finish.
Durability Rating:
Super durable and sturdy, and well-suited for moderate to heavy play and bottoms who love to struggle. If you play hard, these are the cuffs for you! The latigo leather softens with use, without losing strength or durability. Cuffs made from softer leather run the risk of having a rivet pull through the leather when strained against.
Please note that if you select a locking buckle, your cuffs will have one punch at the measurement you select, one punch larger, and one punch smaller,. If you'd like greater adjustability, you can select a non-locking buckle, which uses smaller buckle holes and allows for finer adjustments. If you select "one size fits most", your cuffs will arrive with a non-locking buckle for greatest adjustability.
If You Select One Size Fits Most
If you select a One Size Fits Most size, I will automatically switch your buckle to a non-locking buckle so that your item is as adjustable as possible. I suggest measuring for best fit whenever possible!
Please cut a piece of paper the width of the cuffs, wrap that around your ankle, mark where it overlaps, and measure that distance. Please select your actual measurement. I will build in .5" for ease, and your custom fitted items will have a buckle hole right on the measurement you provide, one larger, and one smaller.

03/29/2014
I purchased these wonderful cuffs from Lucky Stars! The fit is excellent. The workmanship is outstanding. I would recommend them to absolutely everyone with smaller wrists!