Suede Swivel Finger Floggers (pair)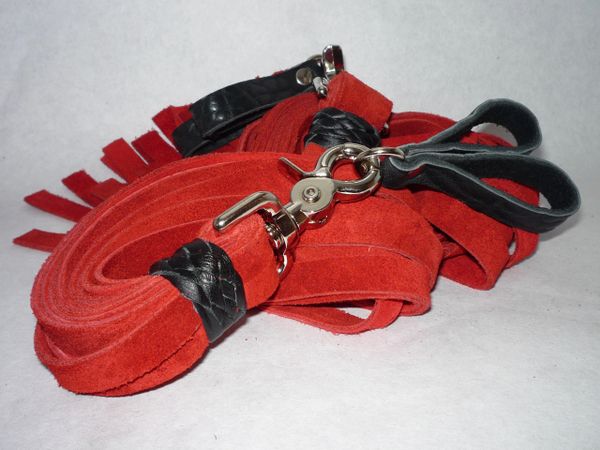 Suede Swivel Finger Floggers (pair)
These floggers are custom-made for you and ship in 4 weeks. Rush orders are available at an additional charge.
These floggers are designed for Florentine flogging. Falls are 16" long. Each flogger is 20 falls of 1/2" wide cowhide suede, on a finger loop made from North American Buffalo Hide. Each flogger is topped with a decorative and functional Turks head braid made from top grain cowhide leather. They swivel freely, and will reduce wrist strain for those interested in two-handed flogging. Sold in pairs.
As with all leather goods, colors vary from hide to hide. If it is important to you that all your pieces match, I strongly suggest ordering pieces of a set at the same time.
Leathers available for handle braiding vary by availability and may not exactly match what is pictured. In most cases, a handle color (such as red, purple, or blue) will not match a bullhide or suede fall color very well- they are often off by several shades. I don't generally suggest pairing blue handles with blue falls etc. Colored handles look great paired with black falls, or coordinating colored falls.