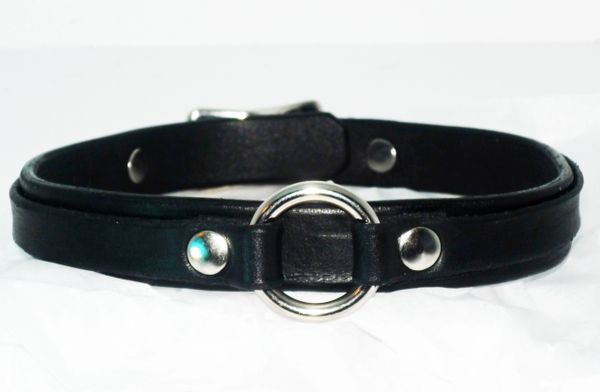 Subtle O-Ring Collar
This item is custom made for you and ships in 4 weeks. Rush orders are available at an additional charge.
This collar has a delicate feel. The O ring is held flush against the neck. 3/4" wide. Locking buckle is standard, but non-locking buckles are available for a subtle effect.
These collars are hand dyed, and the edges are carefully beveled and burnished to a rounded finish.
Durability rating: Heavy Duty
This collar is designed for light to heavy play. These latigo restraints are suited for the toughest play. Please be sure to select the appropriate gear for your purposes so that it will last you a lifetime! All of my black latigo gear needs regular conditioning for proper care.
Measurement:
Please measure at the base of your neck where your collar will sit. Please select your actual measurement. I will build in .5" for ease, and your custom fitted items will have a buckle hole right on the measurement you provide, one larger, and one smaller.
If You Select One Size Fits Most
If you select a One Size Fits Most size, I will automatically switch your buckle to a non-locking buckle so that your item is as adjustable as possible. I suggest measuring for best fit whenever possible!
If you are shopping from outside the United States, please read this important information!