Purple and Black Latigo Collar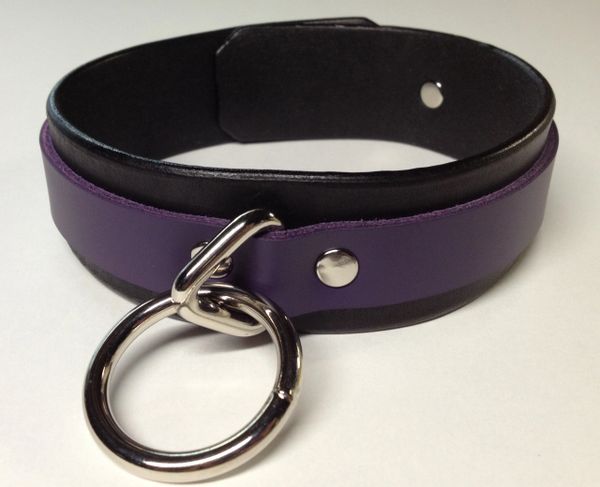 Purple and Black Latigo Collar
Custom made for you, these collars ship in approximately 4 weeks. Rush orders are available at an additional charge.
Deep purple latigo leather sits atop a base layer of black for beautiful contrast and color. 1.5" wide base layer, 3/4" wide top layer, all made from latigo bridle leather. Black layer is hand beveled and burnished for smooth edges against your skin. Other available top layer colors include red, pink, white, and green (email for details!). Locking buckle stays securely closed with or without a padlock.
Durability Rating: Heavy Duty
Super durable and sturdy, and well-suited for heavy play and bottoms who love to struggle. If you play hard, this is the collar for you! The latigo leather softens with use, without losing strength or durability.
Measurement:
Please measure at the base of your neck where your collar will sit. Please select your actual measurement. I will build in .5" for ease, and your custom fitted items will have a buckle hole right on the measurement you provide, one larger, and one smaller.
If You Select One Size Fits Most
If you select a One Size Fits Most size, I will automatically switch your buckle to a non-locking buckle so that your item is as adjustable as possible. I suggest measuring for best fit whenever possible!
03/29/2014
I an the proud owner of one of these collars. Fit is excellent and it's in my favorite colors! Bravo to Jules for her wonderful work!