Pink and White Latigo Ankle Cuffs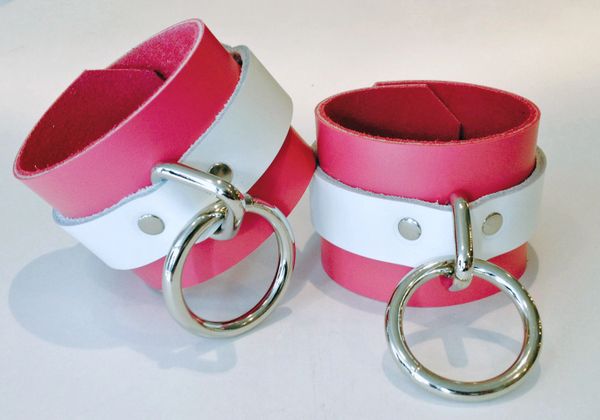 Pink and White Latigo Ankle Cuffs
Made to Order- 4 week Turnaround Time
Custom made for you, these restraints ship in approximately 4 weeks. Rush orders are available at an additional charge. Email service at luckystarsleather dot com to arrange a rush fee.
These pink and white double-layered leather cuffs have a hanging O ring for attachment and lockable buckle. These cuffs are hand made (like all my leather goods!), and coordinate perfectly with my other hot pink leather items. If you order any other hot pink items at the same time, they will be cut from the same section of hide for perfect matching. Made from 7-8 ounce leather that softens with use. The base layer is 2 1/2" wide, and the buckling top layer is 3/4" wide.
Locking buckles stay securely closed with or without a padlock.
Ankle Cuffs: 2.5" wide with a 1" top strap, 1" hanging O ring and locking buckle
Durability rating: Moderate to heavy
Super durable and sturdy, but still soft and flexible. These will hold up for heavy play, but still be comfortable for every day use. The latigo leather softens with use, without losing strength or durability. Cuffs made from softer leather run the risk of having a rivet pull through the leather when strained against. Please be sure to select the appropriate gear for your purposes so that it will last you a lifetime!
Please cut a piece of paper the width of the cuffs, wrap that around your ankle, mark where it overlaps, and measure that distance. Please select your actual measurement. I will build in .5" for ease, and your custom fitted items will have a buckle hole right on the measurement you provide, one larger, and one smaller.
If You Select One Size Fits Most
If you select a One Size Fits Most size, I will automatically switch your buckle to a non-locking buckle so that your item is as adjustable as possible. I suggest measuring for best fit whenever possible!
If you are allergic to nickle, you can upgrade to allergy-safe construction. I will add a glued-in layer of garment leather to cover over all of the connecting hardware on the back side inside the leather. I will also automatically switch your hardware from a hanging O-ring to a standard D ring (so the O ring doesn't touch your skin).