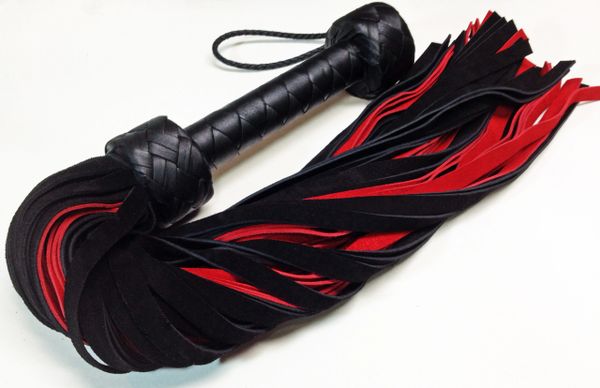 Mr. Thuddy
Custom made for you and ships in 4 weeks. Rush orders are available at an additional charge.
This massive flogger consists of 66 suede falls, each of which are 22" long and 1/2" wide. The backweighted handle adds an additional 9". A braided handle and woven Turk's Head knots provide the perfect finishing touch. This flogger provides extreme thud and is very heavy. This flogger is a real top-killer- better start working out (and find something for your bottom to hang on to so they don't get whapped across the room!) This flogger almost 2.5 lbs, so start working out!
If you choose to combine your falls with black suede falls, please note that dye from the black suede may rub off on your other colored falls. Due to this, I currently recommend sticking with a solid color.
As with all leather goods, colors vary from hide to hide. If it is important to you that all your pieces match, I strongly suggest ordering pieces of a set at the same time.
Leathers available for handle braiding vary by availability and may not exactly match what is pictured. In most cases, a handle color (such as red, purple, or blue) will not match a bullhide or suede fall color very well- they are often off by several shades. I don't generally suggest pairing blue handles with blue falls etc. Colored handles look great paired with black falls, or coordinating colored falls.