Double Layer Wrist Cuffs with Grooves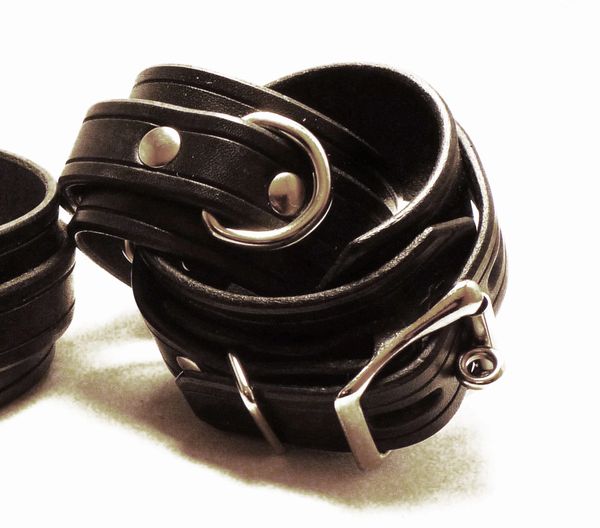 Double Layer Wrist Cuffs with Grooves
This item is custom made for you and ships in 4 weeks. Rush orders are available at an additional charge.

These are rich black double-layered latigo leather cuffs with a lockable buckle. Decorative grooves are cut on the layers. Cuffs are 1.5" wide with a 3/4" D ring at the center. These cuffs are hand dyed, and the edges are carefully beveled and burnished to a rounded finish.
Durability Rating:
Super durable and sturdy, and well-suited for moderate to heavy play and bottoms who love to struggle. If you play hard, these are the cuffs for you! The latigo leather softens with use, without losing strength or durability. Cuffs made from softer leather run the risk of having a rivet pull through the leather when strained against.
Measurement:
Please cut a piece of paper the width of the cuffs, wrap that around your ankle, mark where it overlaps, and measure that distance. Please select your actual measurement. I will build in .5" for ease, and your custom fitted items will have a buckle hole right on the measurement you provide, one larger, and one smaller.
If You Select One Size Fits Most
If you select a One Size Fits Most size, I will automatically switch your buckle to a non-locking buckle so that your item is as adjustable as possible. I suggest measuring for best fit whenever possible!
If you are shopping from outside the United States, please read this important information!