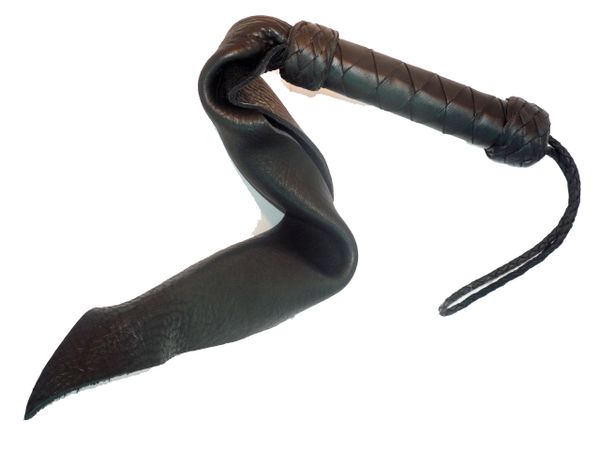 Bullhide dragon's tail
This item is custom-made for you and ships in 4 weeks. Rush orders are available at an additional charge.
This Bullhide Dragon's Tail is 30" long including the handle. Made of thick, pebbly bullhide, this dragon's tail packs a LOT of intense and heavy sting. It features a hand-braided handle and hanging loop. Use: snap it like a wet towel for a sting they won't forget! The bullhide dragon's tail packs a much heavier wallop compared to the suede. While the suede is a stingy bite, the bullhide is a whomping, stinging bite. Bullhide is approximately three times heavier than suede, so this dragon's tail can feel much more intense. If you hit with the tip, it can feel like a heavy singletail. If you hit with the body, it can feel like a leather baseball bat. This is an intense toy that will leave marks. I recommend using both suede and bullhide Dragon Tails during a scene for variation, as they provide very different (but intense) sensations.
As with all leather goods, colors vary from hide to hide. If it is important to you that all your pieces match, I strongly suggest ordering pieces of a set at the same time.
Leathers available for handle braiding vary by availability and may not exactly match what is pictured. In most cases, a handle color (such as red, purple, or blue) will not match a bullhide or suede fall color very well- they are often off by several shades. I don't generally suggest pairing blue handles with blue falls etc. Colored handles look great paired with black falls, or coordinating colored falls.