Baby Blue Pacifier Gag with White Grommets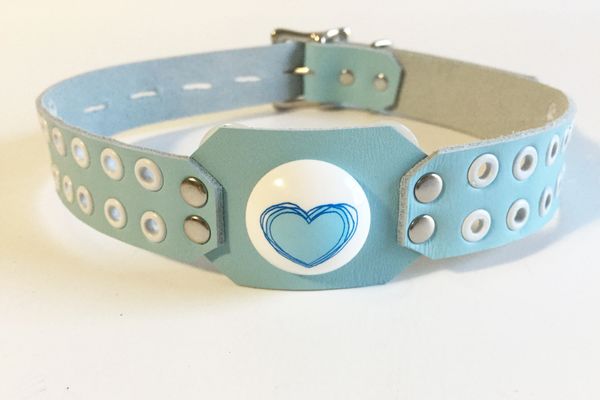 Baby Blue Pacifier Gag with White Grommets
Made to Order- 3 week Turnaround Time
Custom made for you, these restraints ship in approximately 3 weeks (21 days). Rush orders are available at an additional charge. Email service at luckystarsleather dot com to arrange a rush fee.
Baby Blue Leather Pacifier Gag with White Grommets- Fits most button-style pacifiers (not included). Select one of my in-stock pacifiers for a guaranteed fit (add $5) or use your own. This gag features a locking buckle standard, and holds a pacifier securely in place.
Standard size fits 16-22", if you need larger or smaller, please provide your measurement in the "custom size" option. (see the pics for measuring directions!)
Fits most button-style pacifiers of any size (infant through adult).
Ships without a pacifier. Add a pacifier here!
This gag features a lockable buckle (stays closed with or without a mini padlock!)
To lock the buckle, add a luggage sized padlock through the tongue of the buckle. It will stay closed with or without a padlock.
A NOTE ON PACIFIERS:
You can use your own button-style paci that has a button around the same size/shape as MaM paci's.
I don't have any adult pacifiers- I stock a small selection of cute toddler-sized pacifiers that fit my gags perfectly (I recommend MaM shields for a flawless fit, but other similar brands will work well too!).

If it has a MaM-sized round button and a ring/loop handle, it can likely fit, but this requires one of the softer leathers (baby blue and baby pink). Forcing a ring handle through the opening with a harder leather may stretch or distort the leather or break your pacifier- proceed at your own risk!



Pacifiers with small buttons (less than 1") don't work with this gag. For best results, stick with paci styles that look like what I have pictured!
Your adult pacifier will work perfectly with this gag, as long as the handle is a button-type similar to what is pictured. The size of the nipple/teat doesn't matter at all- - only the size and shape of the button matters.
Shown with optional pacifier (not included). Add one to your cart and it will be included with your pacifier gag. If you don't add a pacifier, your gag will ship without one, and you can provide your own :)
If you are shopping from outside the United States, please read this important information!